After making an impression with Dofus and other projects since, the Roubaix-based studio will release an ambitious new MMORPG. baptized waven, this one presents itself as a turn-based massively multiplayer role-playing game with a tactical dimension. Scheduled for free-to-play at the end of the year, the title will first go through the early access box. A date has fallen, here is everything we know.
Waven will sail in August
It's official, waven will be available on PC on August 16, 2023. The title will first be launched through founder packs (paid) and still promises us a release in its final version in free-to-play later this year. No precise date, but "end of 2023", with an additional arrival on mobiles and tablets. In the meantime, it will therefore be necessary to go through this early access.
Early access which will still offer a lot of content, with a short introductory prologue with Goultard, 250 accessible quests, 300 spells to equip, 90 companions to collect, 17 destinations to travel to and 25 playable heroes. Other content will roll out over time (or wait for the final release), including main quest or island defense.
Presented as " the revival of the tactical RPG " (just that), waven offers turn-based combat, with different game modes and a dose of deckbuilding. With Ankama's so recognizable touch, there are of course well-known names, such as the archipelagos of Amakna, Bonta and Brakmar, cult characters and many other mysteries.
Waven Founder Pack Details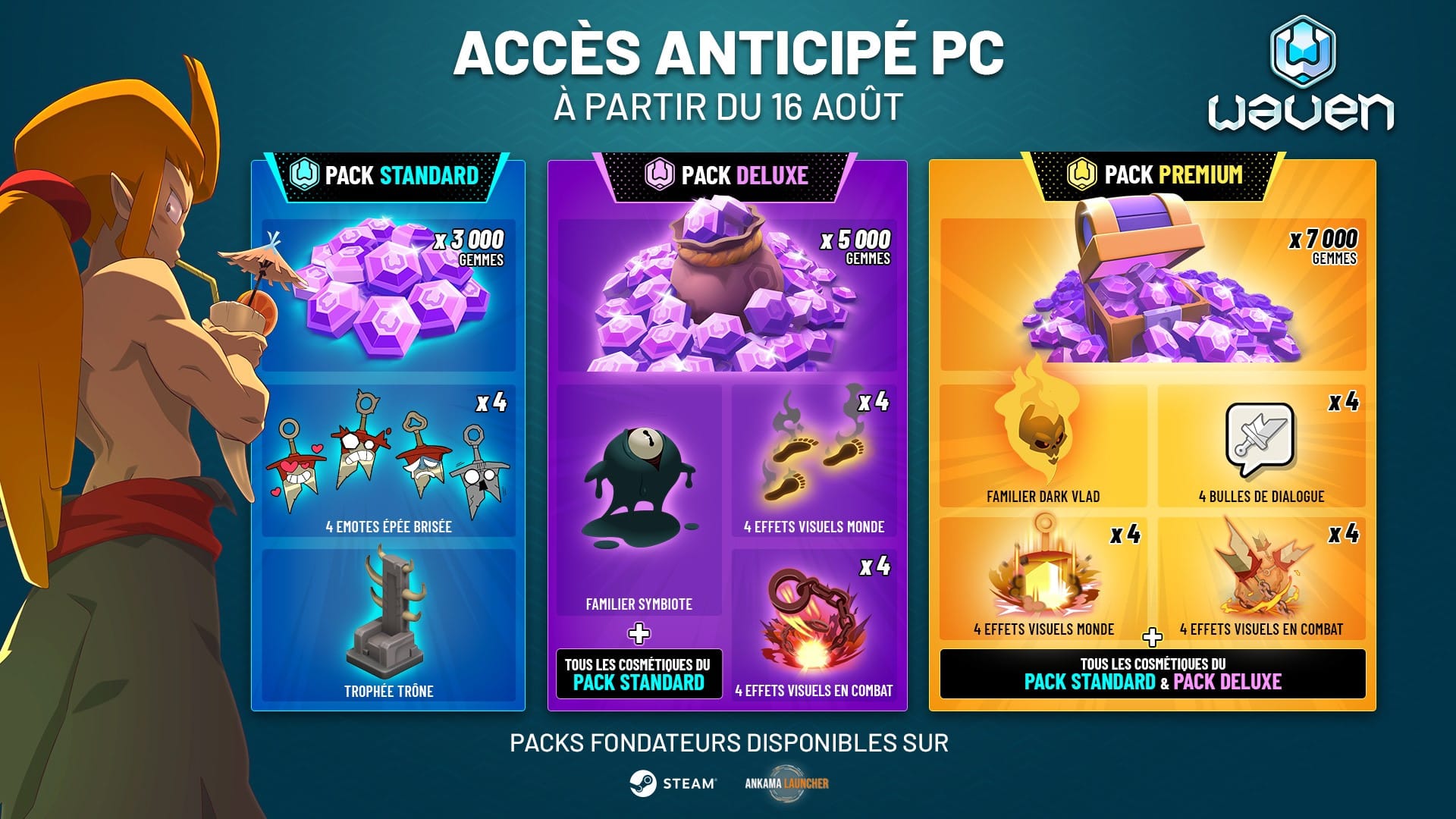 Like any good early access, the title will first go through a paid period, before fully deploying its content in a free-to-play way. To play it in preview while supporting the developers, it will be possible to take advantage of this early access with different packs, granting various bonuses. The prices are not yet known. Here is the detail :
Standard Founder's Pack
3,000 Gems
4 Broken Sword emotes
1 Throne trophy
Deluxe Founder's Pack
5,000 Gems
1 Symbiote pet
4 visual effects in battle
4 world visual effects
All Standard Pack Cosmetics
Premium Founder's Pack
7,000 Gems
1 Darth Vlad Pet
4 Premium world visual effects
4 visual effects in Premium combat
4 Goultard speech bubbles
All Deluxe Pack and Standard Pack cosmetics
See you on August 16 for the release of waven in early access on PC and Mac. You can now find the game on Steam.