Ratchet & Clank à l'assaut de vos ordinateurs
Sorti en 2021 sur PlayStation 5, Ratchet & Clank Rift Apart fait partie des exclusivités consoles qui ont marqué la communauté Sony. Certes, pas dénué de défauts, mais l'aventure avait de quoi nous dépayser avec une mise en scène impressionnante, un jeu très fluide, une direction artistique chatoyante et la puissance de la PS5 enfin utilisée avec des transitions bluffantes. Et puis, c'est toujours un plaisir de revoir notre lombax, n'est-ce pas ?
Deux ans plus tard, voici que le titre débarque sur PC via Steam et l'Epic Games au prix de 59.99€. Une stratégie similaire au remake de The Last of Us Part I, God of War ou encore Marvel's Spider-Man, qui ont eu droit à une sortie en décalée sur ces plateformes. Cette mouture PC s'accompagne de toutes les commodités habituelles, c'est-à-dire une optimisation du jeu au clavier/souris, la comptabilité avec les écrans ultrawide (en 21:9, 32:9 et 48:9), le ray-tracing, la possibilité de connecter sa DualSense et d'autres options graphiques (DLSS3, AMD FSR2 ou encore Nvidia Reflex).
Comparatif PC / PS5
Comme à leurs habitudes, les journalistes de Digital Foundry ont passé au peigne fin cette version PC. Dans cette vidéo de quasiment une heure, la chaîne analyse les différents aspects de ce portage, tout en proposant un comparatif entre un ordinateur surboosté, une configuration plus médiocre et une PlayStation 5. Une analyse qui n'est pas volée puisque le dernier jeu PlayStation sorti sur PC avait connu un lancement très compliqué avec de nombreux soucis d'optimisation, sans doute le pire portage du constructeur.
Et bonne nouvelle : la version PC semble tourner comme un charme. Le framerate semble constant, y compris sur une configuration très limite, et la majorité des fonctionnalités sont fluides. Le portage semble donc de bonne augure, et peut rassurer les personnes qui ont été déçus (à juste titre) de The Last of Us Part I à son lancement. Notez tout de même que Sony n'a pas encore donné de copie à la presse et les retours sont donc assez rares pour l'instant. On rappelle aussi que ce portage a été épaulé par le studio Nixxes Software, équipe qui avait déjà épaulé sur les portages de Spider-Man (et qui avait été racheté par Sony en 2021).
Configurations PC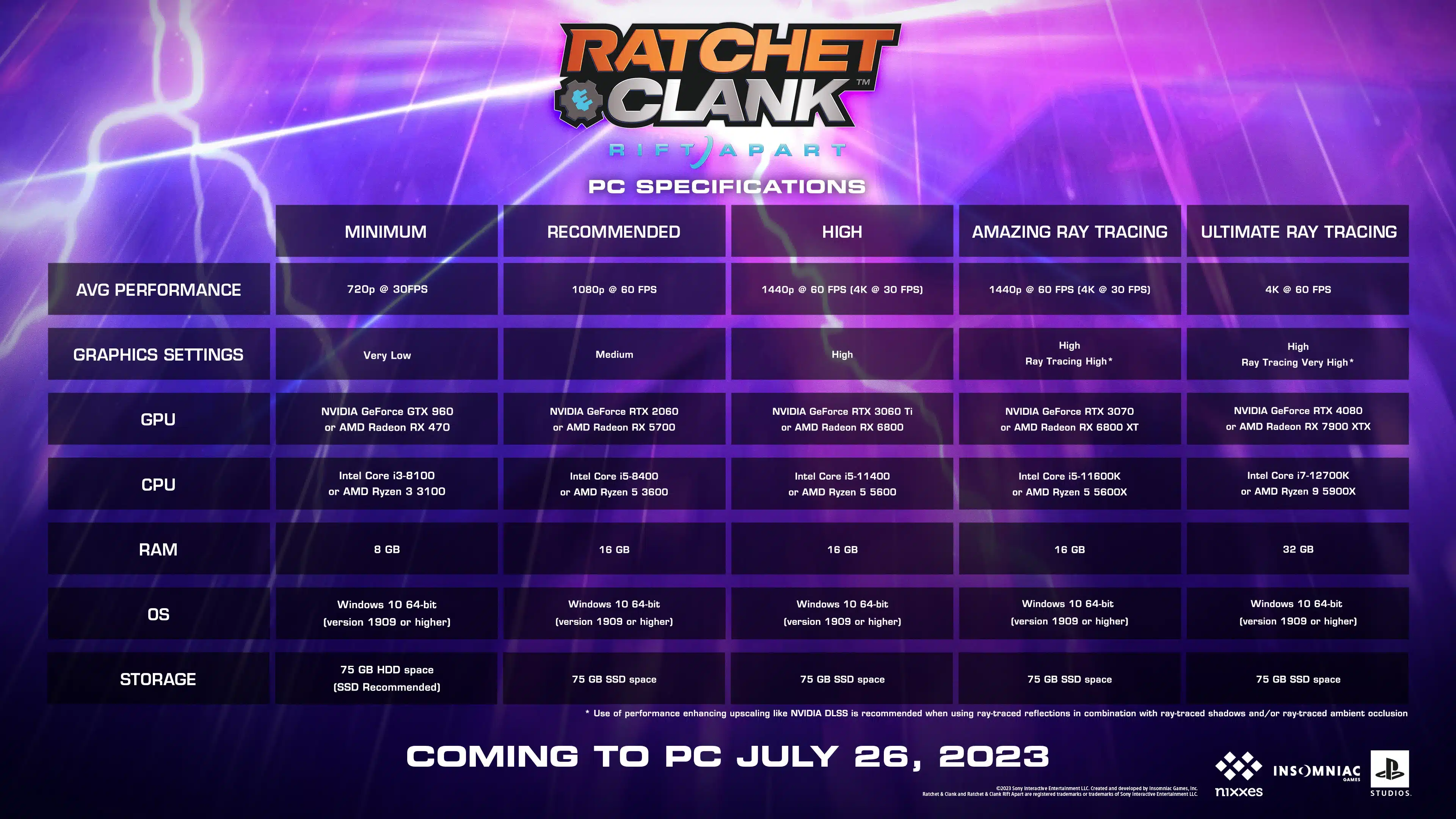 Pour rappel, voici les configurations nécessaires pour faire tourner le titre :
Configuration minimale
Système d'exploitation : Windows 10 (version 1909 ou plus)
Processeur : Intel Core i3-8100 ou AMD Ryzen 3 3100
Mémoire vive : 8 GB de mémoire
Graphiques : NVIDIA GeForce GTX 960 ou AMD Radeon RX 470
Espace disque : 75 GB d'espace disque disponible (SSD recommandé)
Configuration recommandée
Système d'exploitation : Windows 10
Processeur : Intel Core i5-8400 ou AMD Ryzen 5 3600
Mémoire vive : 16 GB de mémoire
Graphiques : NVIDIA GeForce RTX 2060 ou AMD Radeon RX 5700
Espace disque : 75 GB d'espace disque disponible (SSD recommandé)
https://harri.com/Golden-Dragon-Fish-Game-Downlo-Golden-Dragon-Fish-Game-Downlo-1
https://harri.com/Nba-2k22-Vc-Glitches-3-Best-E-Nba-2k22-Vc-Glitches-3-Best-E
https://harri.com/Best-Big-Build-2k23-Yet-The-Hy-Best-Big-Build-2k23-Yet-The-Hy
https://harri.com/Match-Masters-Free-Boosters-Gi-Match-Masters-Free-Boosters-Gi
https://harri.com/Free-Gems-Pk-Xd-Spin-Wheel-Qui-Free-Gems-Pk-Xd-Spin-Wheel-Qui
https://harri.com/Snapchat-Score-Frozen-Snapchat-Score-Frozen
https://harri.com/Livu-2023-Free-Coins-Mod-Tips-Livu-2023-Free-Coins-Mod-Tips
https://harri.com/Nba-2k23-How-To-Get-Vc-Fast-Ga-Nba-2k23-How-To-Get-Vc-Fast-Ga
https://harri.com/Fire-Kirin-Hack-Fire-Kirin-Add-Fire-Kirin-Hack-Fire-Kirin-Add
https://harri.com/Fire-Kirin-Hacks-Free-Slots-Ad-Fire-Kirin-Hacks-Free-Slots-Ad-1
https://harri.com/Survivor-Io-Mod-Hack-Unlimited-Survivor-Io-Mod-Hack-Unlimited
https://harri.com/Fire-Kirin-Plus-Hack-Ios-2023-Fire-Kirin-Plus-Hack-Ios-2023
https://harri.com/Nba-2k23-Locker-Codes-October-Nba-2k23-Locker-Codes-October
https://harri.com/Enjoy-Exclusive-Dramas-With-Vi-Enjoy-Exclusive-Dramas-With-Vi
https://harri.com/Livu-App-Mod-Free-Coins-Downlo-Livu-App-Mod-Free-Coins-Downlo
https://harri.com/Bingo-Blitz-Free-Credits-Lates-Bingo-Blitz-Free-Credits-Lates-2
https://harri.com/New-Updated-Pk-Xd-Gems-Hack-Ge-New-Updated-Pk-Xd-Gems-Hack-Ge
https://harri.com/8-Ball-Pool-Apk-Mod-Unlimited-8-Ball-Pool-Apk-Mod-Unlimited-1
https://harri.com/How-To-Get-Free-Gold-On-War-Ro-How-To-Get-Free-Gold-On-War-Ro-1
https://harri.com/Best-Big-Build-2k23-Yet-The-Hy-Best-Big-Build-2k23-Yet-The-Hy-1
https://harri.com/Survivor-Io-1-11-0-Apk-Mod-Men-Survivor-Io-1-11-0-Apk-Mod-Men
https://harri.com/Match-Masters-Free-Coins-Boost-Match-Masters-Free-Coins-Boost
https://harri.com/8-Ball-Pool-Rewards-Free-Coins-8-Ball-Pool-Rewards-Free-Coins
https://harri.com/How-To-Get-Hacks-On-Survivor-I-How-To-Get-Hacks-On-Survivor-I
https://harri.com/Real-Free-Paypal-Cash-Codes-Li-Real-Free-Paypal-Cash-Codes-Li
https://harri.com/Fire-Kirin-Hacks-Free-Slots-Ad-Fire-Kirin-Hacks-Free-Slots-Ad-2
https://harri.com/War-Robots-Free-Video-War-Robots-Free-Video
https://harri.com/Earn-Free-8-Ball-Pool-Coins-In-Earn-Free-8-Ball-Pool-Coins-In
https://harri.com/Who-Mod-Apk-Premium-2022-V-Unl-Who-Mod-Apk-Premium-2022-V-Unl
https://harri.com/How-To-Find-Your-Unique-Id-In-How-To-Find-Your-Unique-Id-In