Le 17/09/2023 à 18:35

Par Jonathan Butin
Notre avis




8


10





Gone Girl est une réussite à tous les points de vue et ce malgré une évidente perte de souffle à l'approche de la conclusion. David Fincher signe une adaptation fidèle et brillante du roman à succès de Gillian Flynn. Jonglant avec une aisance désarmante entre les registres du thriller, de la comédie noire et de la satire, ce dixième long-métrage du réalisateur de Seven est hallucinant de maîtrise.

Avec Gone Girl, David Fincher signe sa seconde adaptation consécutive d'un roman après Millenium en 2012. Un thriller machiavélique qui, par sa surenchère de manipulations et de faux-semblants, n'est pas sans rappeler le très bon The Game du même réalisateur.
(critique publiée en octobre 2014) GONE GIRL est désormais sur Netflix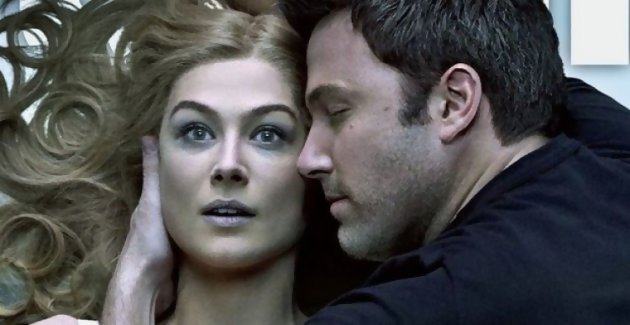 Nick Dunne (Ben Affleck) et sa femme Amy (Rosamund Pike) forment un couple heureux et amoureux. Frappés par la crise financière, ils décident de quitter New York pour vivre leur bonheur dans le Missouri natal de Nick, mais le jour de leur 5ème anniversaire de mariage, Amy disparaît. Suspect numéro un dans l'enquête qui s'ensuit, Nick réalise qu'il n'a pas la moindre idée de qui est réellement sa compagne. 
Gone Girl est basé sur le best-seller (bien qu'il se soit permis quelques modifications) Les Apparences de l'auteure Gillian Flynn, qui endosse ici le rôle de scénariste. Des apparences qui sont évidemment aussi trompeuses à l'écrit qu'à l'écran. Ainsi le film n'a nullement l'intention de se laisser cantonner dans un genre distinct. Débutant comme le thriller pur jus annoncé par le synopsis, Gone Girl délaisse rapidement ses atours de film policier pour entrer dans le giron de la comédie noire, tantôt satire acerbe "journalisme à sensation", tantôt analyse amusante ou osée des relations conjugales. Cette polyvalence gérée magistralement, Gone Girl la doit à un scénario brillant et à des rebondissements savamment distillés – dont certains, auraient frisé le ridicule s'ils avaient été autrement amenés – mais aussi et surtout à des dialogues piquants et une bande sonore composée par Trent Reznor et Atticus Ross, oppressante à souhait dans les moments où le film renoue avec le thriller.
 
Ce 10ème long-métrage de David Fincher bénéficie en plus d'un casting proche de la perfection. Difficile, après coup, d'imaginer un autre acteur que Ben Affleck pour incarner le maladroit Nick Dunne – capable de prendre la pose, sourire aux lèvres mais sans arrière-pensées, devant la photo de sa femme disparue – jeté en pâture à une opinion publique qui à une idée bien arrêtée sur ce à quoi doit ou ne doit pas ressembler un innocent.
Si Gone Girl n'est pas l'exercice le plus brillant de la filmographie de Fincher, il en va différemment pour celle de Rosamund Pike. Habituée jusque-là aux rôles de faire-valoir, que ce soit aux côtés de Pierce Brosnan dans Meurs un Autre Jour ou de Tom Cruise dans Jack Reacher, l'actrice britannique livre ici une performance de très haute volée mais dont la teneur doit être passée sous silence afin d'éviter tout spoiler… Les seconds rôles sont eux aussi extrêmement convaincants avec en tête Neil Patrick Harris dans la peau de l'ex petit-ami de Amy, personnage ambigüe à la fois glaçant et réconfortant, loin de son personnage de Barney Stinson dans la série How I Met Your Mother.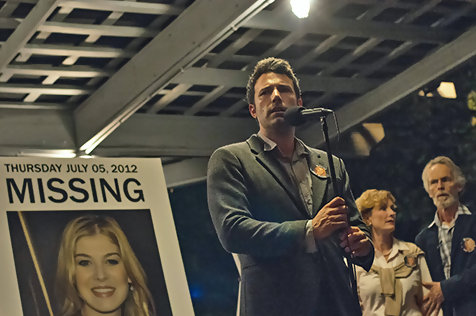 Gone Girl mérite-t-il pour autant de figurer au panthéon des films de Fincher, aux côtés des chefs d'œuvre que sont Seven, Fight Club ou encore The Social Network ? Pas tout à fait car si le film cumule les bons points dans à peu près tous les registres, il pâtit d'une perte de souffle sensible dans le dernier acte à laquelle la mise en scène solide de Fincher ne peut palier. Une fois les "grosses surprises" passées, le scénario, presque désabusé, chemine de manière attendue jusqu'à une fin peut-être trop ouverte pour être satisfaisante – le film faisant ici les frais de sa fidélité (ou presque) envers le matériau d'origine. Le sentiment de complétion en prend un coup, la boucle n'est pas bouclée, laissant à Gone Girl un goût d'inachevé. Mais ces quelques écueils mis à part, Gone Girl dispose de bien trop d'atouts pour que l'on se focalise uniquement sur la baisse de régime à laquelle est sujet le troisième acte. Ce nouveau Fincher, s'il n'est pas le chef d'oeuvre escompté, mérite largement le coup de chapeau.
Le player Dailymotion est en train de se charger…