Quels seront les jeux ajoutés au PS Plus Extra et Premium en novembre 2023 ? Sony vient de dévoiler la liste complète et elle risque de faire quelques déçus.
Le mois d'octobre avait été placé sous le signe d'Halloween pour les membres du PS Plus Extra et sous celui de la nouveauté pour ceux de la formule Premium. Sony a enfin déployé le streaming des jeux PS5 pour son offre haut de gamme. Celles et ceux qui ont opté pour celle inférieure ont quant à eux pu mettre la main sur des jeux comme Alien Isolation, Gotham Knights ou encore The Dark Pictures Anthology House of Ashes. Quel sera le programme pour le PS Plus Extra et Premium de novembre 2023 ? On a enfin la réponse.
Les jeux PS Plus Extra de novembre 2023
Un an après la mutation du PlayStation Plus, Sony a augmenté les prix de l'ensemble de ses formules. Une hausse pouvant grimper à près de 35% pour l'offre Premium et que les joueurs ont encore au travers de la gorge. Chaque annonce de jeux mensuels est donc attendue au tournant, et celle des ajouts du PS Plus Extra et Premium n'y manque pas. On connaissait déjà l'un d'entre eux : Teardown, le jeu en bac à sable de destruction basé sur des voxels. Le titre sera disponible pour les abonnés aux formules Extra et Premium à l'occasion de son lancement sur PS5 aujourd'hui.
La question qui brûlait toutes les lèvres : quels seraient les jeux qui l'accompagneraient ? On connaît désormais la liste des ajouts du PS Plus Extra de novembre 2023 et autant dire que malgré de très bonnes productions comme Dragon's Dogma, Dead Island ou même Superliminal, elle risque de faire quelques déçus.
Teardown | PS5
Dragon's Dogma: Dark Arisen | PS4
Mobile Suit Gundam: Extreme vs. Maxi Boost On | PS4
Dead Island: Riptide Definitive Edition | PS4
Superliminal | PS4, PS5
Eiyuden Chronicle: Rising | PS4, PS5
Nobunaga's Ambition: Taishi | PS4
Alternate Jake Hunter: Daedalus The Awakening of Golden Jazz | PS4
River City Melee Mach!! | PS4
Pour mémoire, ces jeux seront disponibles dans le catalogue du PS Plus Extra dès le mardi 21 novembre 2023 aux alentours de 11h, heure française. Seule exception donc, Teardown qui est déjà téléchargeable pour les abonnés.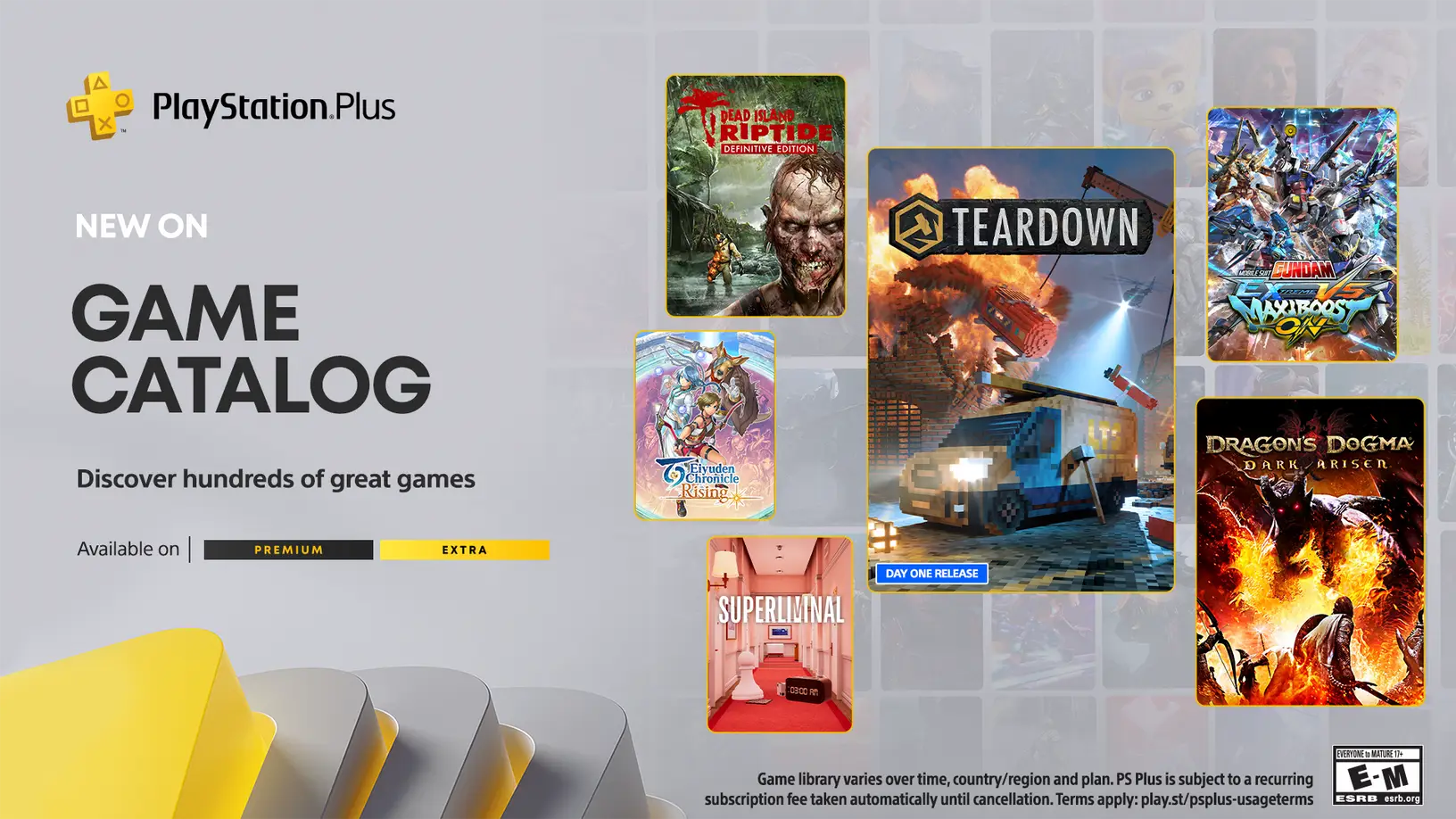 Les jeux PlayStation Plus Premium de novembre
Les membres du PS Plus Premium ne seront pas en reste avec une flopée de nouveaux titres ajoutés ce mois-ci et il y en a un peu plus que d'habitude. Le leak est confirmé, le jeu Là-Haut, tiré du film de Pixar, sera bien présent dans le catalogue la semaine prochaine.
Grandia | PS4, PS5
Jet Moto | PS4, PS5
Là-Haut | PS4, PS5
Klonoa Phantasy Reverie Series | PS4/PS5
PaRappa the Rapper 2 | PS4