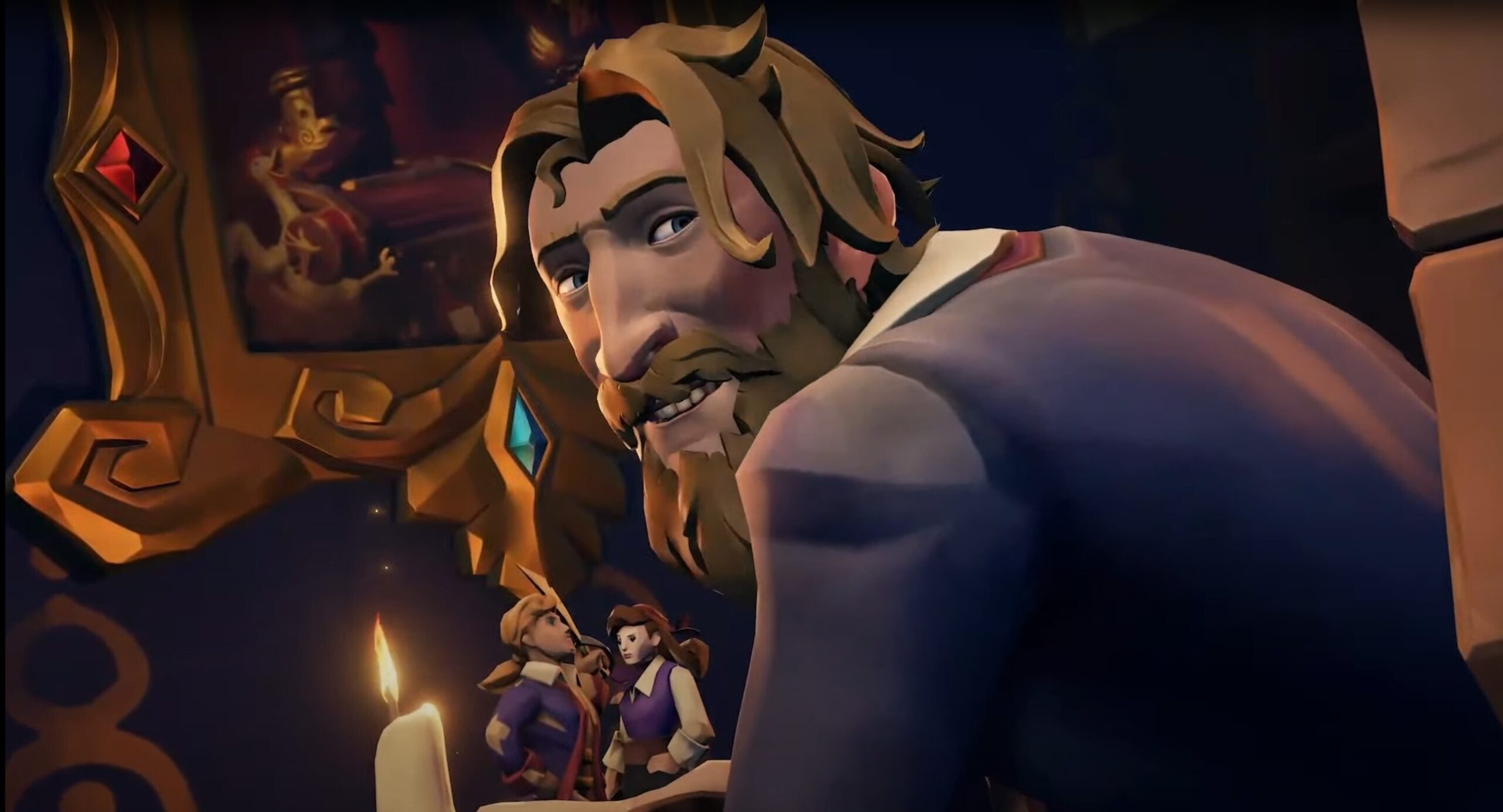 L'extension de Sea of Thieves tant attendue The Legend of Monkey Island est disponible gratuitement dès aujourd'hui. Les fans seront en terrain connu.
Incarner un véritable pirate et partir à l'aventure avec ses amis, voilà la proposition originale de Sea of Thieves. Cela fait maintenant cinq ans que les joueurs peuvent explorer le monde ouvert du jeu développé par Rare, qui a d'ailleurs eu droit à une nouvelle version cette année pour célébrer cet anniversaire. Alors que Rare apporte déjà des mises à jour régulières au jeu, le studio vient de lancer un nouveau contenu qui devrait faire plaisir à sa communauté, mais aussi à celle d'une licence culte du jeu vidéo.
Le DLC Monkey Island arrive dans Sea of Thieves dès aujourd'hui
Le 20 juillet dernier, Sea of Thieves accueillait une toute nouvelle extension nommée The Legend of Monkey Island. Oui, il s'agit bien d'un morceau d'aventure inédit qui se déroule dans l'univers de la saga de point'n'click culte. Le contenu présenté lors du Xbox Games Showcase en juin est accessible gratuitement via les fables du flibustier, le mode narratif de Sea of Thieves, et permettra de découvrir une toute nouvelle île.
Visitez des lieux iconiques et rencontrez les visages familiers de la série Monkey Island tandis que vous levez l'ancre à la recherche de Guybrush Threepwood. Affrontez le capitaine pirate fantôme LeChuck et levez la perfide malédiction qui a ensorcelé l'île de Mêlée.
Pour le moment, seule la première fable est disponible, tandis que les deux suivantes arriveront ultérieurement. Dès aujourd'hui, vous pouvez entamer votre voyage vers l'île de Mêlée en traversant la mer des Damnés afin de retrouver des lieux iconiques comme le Scumm Bar ou des personnages cultes de la licence tels que Murray.
Un système de dialogues repensé pour l'occasion
Sur le site officiel de Xbox, Mike Chapman, le directeur créatif de Sea of Thieves, annonce également que les mythiques Duels d'Insultes caractéristiques de la saga Monkey Island font aussi leur arrivée dans le jeu, ce qui laisse augurer de moments particulièrement drôles. L'homme fait une autre déclaration intéressante sur une nouvelle mécanique qui arrive dans Sea of Thieves à l'occasion de la sortie de cette extension. « Nous avons revu notre système de dialogue avec les PNJ, ce qui nous permet d'avoir des personnages entièrement dotés d'une voix », déclare-t-il. Rare décrit ce nouveau contenu comme « une lettre d'amour à la saga iconique des Monkey Island », histoire de faire un peu de charme aux fans de la saga. Vous pouvez découvrir tout cela dès maintenant sur Xbox et PC.
https://gitlab.openmole.org/charlesbloom095/cloudme/-/issues/8034
https://gitlab.openmole.org/charlesbloom095/cloudme/-/issues/8035
https://gitlab.openmole.org/charlesbloom095/cloudme/-/issues/8036
https://gitlab.openmole.org/charlesbloom095/cloudme/-/issues/8037
https://gitlab.openmole.org/charlesbloom095/cloudme/-/issues/8038
https://gitlab.openmole.org/charlesbloom095/cloudme/-/issues/8039
https://gitlab.openmole.org/charlesbloom095/cloudme/-/issues/8040
https://gitlab.openmole.org/charlesbloom095/cloudme/-/issues/8041
https://gitlab.openmole.org/charlesbloom095/cloudme/-/issues/8042
https://gitlab.openmole.org/charlesbloom095/cloudme/-/issues/8043
https://gitlab.openmole.org/charlesbloom095/cloudme/-/issues/8044
https://gitlab.openmole.org/charlesbloom095/cloudme/-/issues/8045
https://gitlab.openmole.org/charlesbloom095/cloudme/-/issues/8046
https://gitlab.openmole.org/charlesbloom095/cloudme/-/issues/8047
https://gitlab.openmole.org/charlesbloom095/cloudme/-/issues/8048
https://gitlab.openmole.org/charlesbloom095/cloudme/-/issues/8049
https://gitlab.openmole.org/charlesbloom095/cloudme/-/issues/8050
https://gitlab.openmole.org/charlesbloom095/cloudme/-/issues/8051
https://gitlab.openmole.org/charlesbloom095/cloudme/-/issues/8052
https://gitlab.openmole.org/charlesbloom095/cloudme/-/issues/8053
https://gitlab.openmole.org/charlesbloom095/cloudme/-/issues/8054
https://gitlab.openmole.org/charlesbloom095/cloudme/-/issues/8055
https://gitlab.openmole.org/charlesbloom095/cloudme/-/issues/8056
https://gitlab.openmole.org/charlesbloom095/cloudme/-/issues/8057
https://gitlab.openmole.org/charlesbloom095/cloudme/-/issues/8058
https://gitlab.openmole.org/charlesbloom095/cloudme/-/issues/8059
https://gitlab.openmole.org/charlesbloom095/cloudme/-/issues/8060
https://gitlab.openmole.org/charlesbloom095/cloudme/-/issues/8061
https://gitlab.openmole.org/charlesbloom095/cloudme/-/issues/8062
https://gitlab.openmole.org/charlesbloom095/cloudme/-/issues/8063