It's official, Microsoft is giving up on Xbox Live Gold and announcing Xbox Game Pass Core, a new formula that is highly more interesting and still cut out for small budgets.
Were you attached to Xbox Live? Tanpis, the green brand decided to completely review its formula by changing its name in stride. The objective being of course to make everything more coherent but also to narrow the border which separates the average Xbox user and the subscription Xbox Game Pass. Everyone will find noon at their doorstep, but what is certain is that more than ever, Xbox is installing its ecosystem to make it completely homogeneous.
What is Xbox Game Pass Core?
Finally, the Xbox Game Pass Core is neither more nor less than a boosted Xbox Live Gold, or a mini Game Pass if you will. It will still allow you to play games in multiplayer and will still give access to exclusive promotional offers like with Gold, but as a bonus this time, you will have access to a small library of games without paying a penny more than your subscription. Everything will essentially be available on Xbox Series and One consoles since it is not necessary to have a subscription to play multiplayer on PC.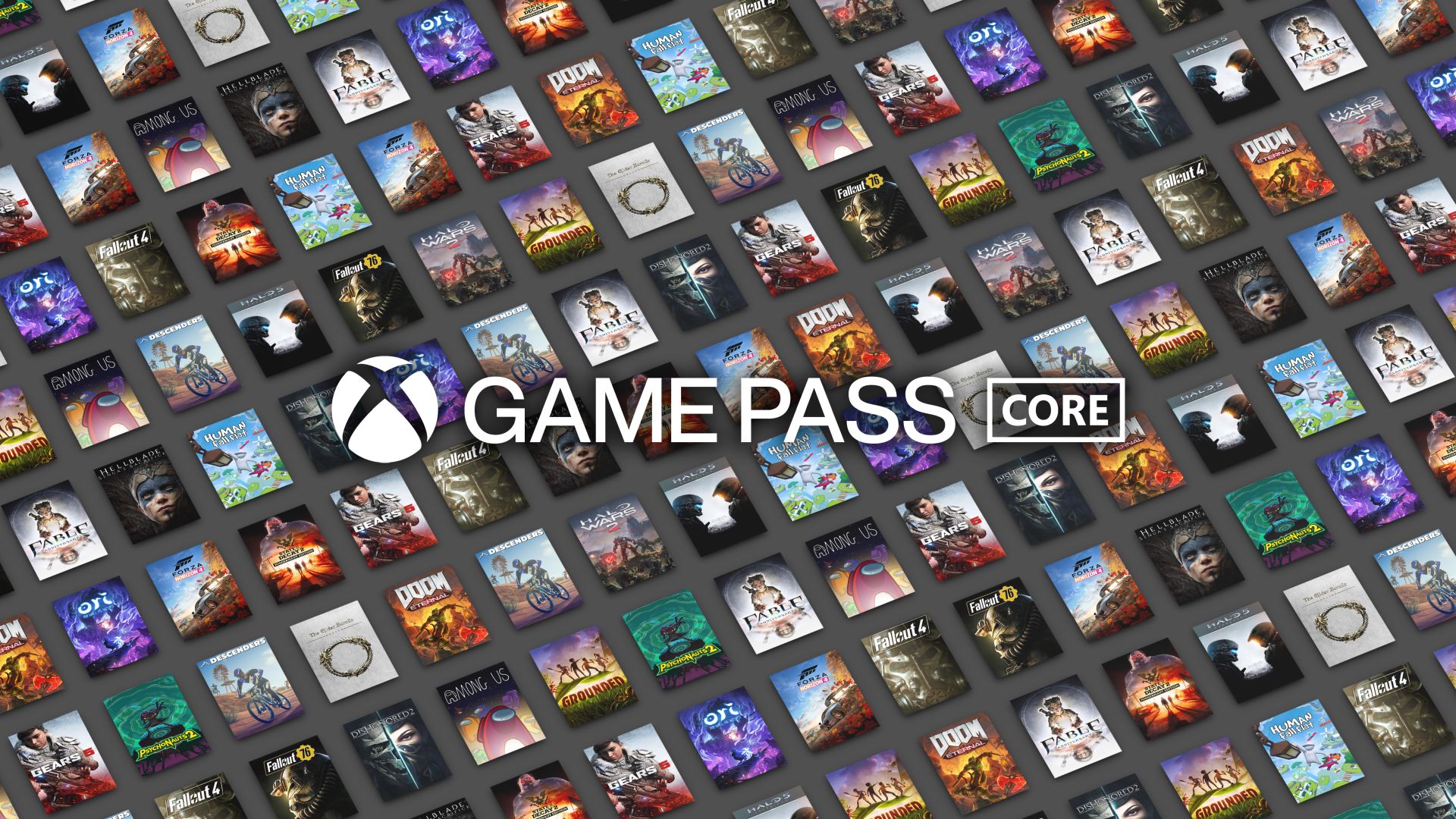 Game Pass Core date and price
New Xbox Game Pass Core will be released on next september 14 and will be available on Xbox Series and Xbox One. If you still have an active Xbox Live Gold subscription at that time, it will automatically convert to a new subscription without you having to do anything.
Contrary to what had leaked, the Xbox Game Pass Core won't cost €9.99, but it will 6.99€ per month like the current Xbox Live Gold. A price that now places Xbox just below PlayStation, but still above Nintendo. The other formulas of the Game Pass as for them do not move one iota. You will always be asked between 10 and 11€ for the basic formula depending on your platform and 15€ for the Ultimate version.
PlayStation Plus Essential: €8.99
Xbox Game Pass Core: €6.99
Nintendo Online: €3.99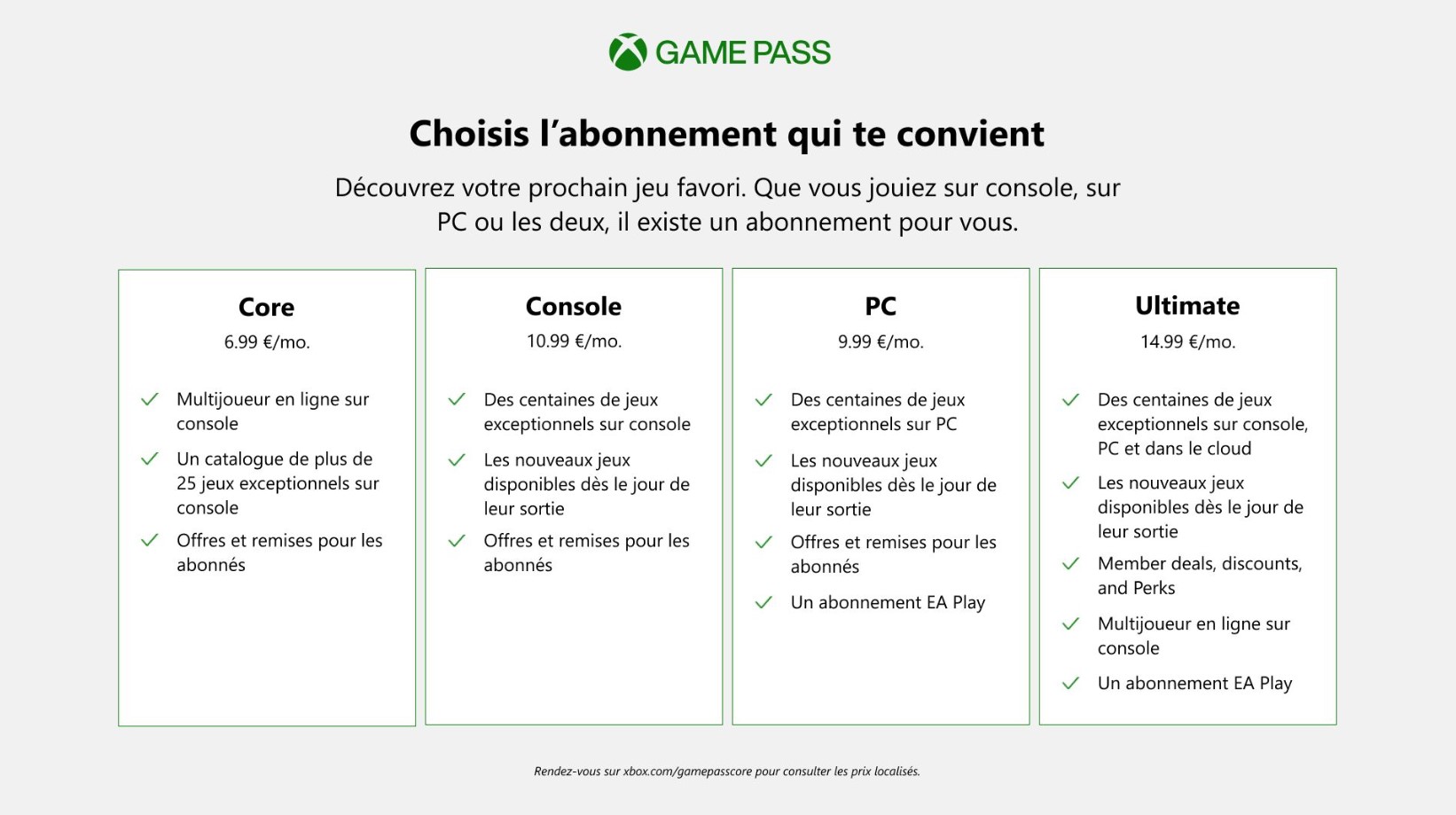 What happens to Xbox Live Gold and Games with Gold?
After more than 20 years of good and loyal service, the term Xbox Live bows out once and for all. It's over now, the subscription no longer exists and the term becomes a relic of the past. From now on, the firm is betting everything on the Game Pass to retain its customers. Concerning the Games With Gold, it's the same. From now on, you will no longer be entitled to a few free games each month, everything will happen in the new catalog which should gradually fill up, or which should above all see the games change over the months and years to come.
All Xbox Game Pass Core games at launch
Upon its release, the Xbox Game Pass Core will offer no less than 25 Xbox Series and One games. These will be playable at no additional cost and for an unlimited duration. Microsoft has already shared the complete list of Xbox games that will be available at the launch of the new subscription offer. There are very big games, like more or less popular independent titles. There is something for every taste.
Among Us
Descend
Dishonored 2
Doom Eternal
Fable Anniversary
Fallout 4
Fallout 76
Forza Horizon 4
Gears 5
Grounded
Halo 5: Guardians
Halo Wars 2
Hellblade: Senua's Sacrifice
Human Fall Flat
Inside
Ori & The Will of the Wisps
Psychonauts 2
State of Decay 2
The Elder Scrolls Online: Tamriel Unlimited