Diablo 4 has just launched its very first season. A closely watched event that has raised a lot of expectations, perhaps too much? Barely launched, season 1 is debated and the players laugh, when they are not downright angry.
Diablo 4 breaks records, we are talking about a game that, in less than two months, has already sold more than 10 million copies. Yes, it's huge and it puts it alongside Zelda Tears of The Kingdomor Hogwarts Legacy, the other big hits of 2023. But even if it's a hit, Blizzard's hack'n slash is not unanimous. Well, not really him, but rather his season 1 which starts today.
Diablo 4 season 1 is making players completely sick
The Season of Bad Luck, for some players, the season 1 of Diablo 4 bears its name very well. In any case, this is what the majority of players think who took a flurry of nerves in the gums and it did not pass. In the very big Season 1 patch, Blizzard has indeed implemented a lot of balancing, maybe even a little too much in reality. In an effort to reduce players' ability to burn out their game, Blizzard has dropped the nerf on all classes. Virtually all current viable builds are more or less affected. Damage, resistance bonuses, resource costs or skill cooldowns… adjustments that really don't appeal. In addition to classes, other measures, such as the reduction of XP gains, an overall slowing down of Infernal Waves or even a significant nerf to the Vulnerability affliction… In short, nothing is right.
On social networks, Blizzard takes the sauce. "Thank you for killing the game", "We asked for endgame content, not endgame", "Blizzard didn't understand anything"… The reactions are very numerous and are multiplying at great speed almost everywhere on forums and social networks.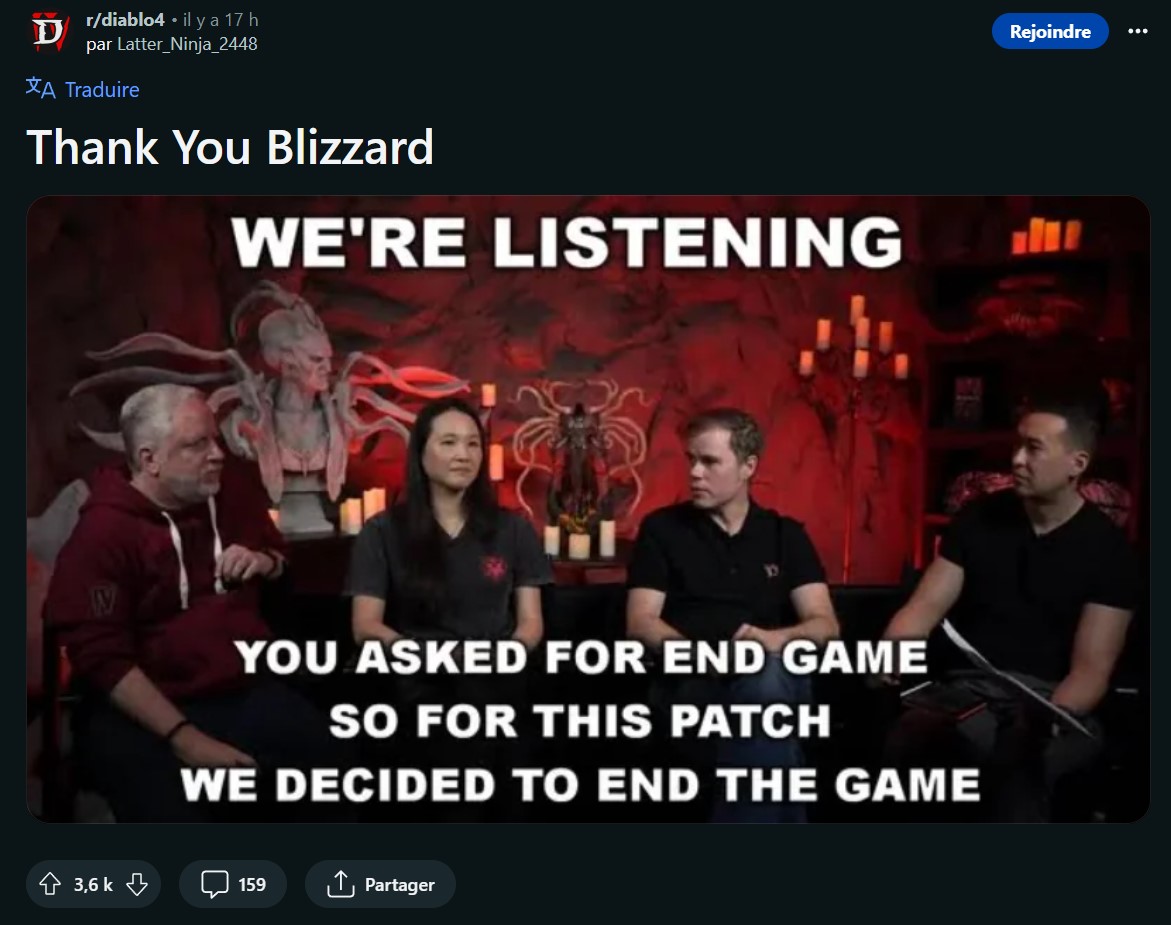 Blizzard will react… soon… soon Blizzard
Suddenly, Blizzard ended up speaking through Adam Fletcher who takes care of the community. He said yesterday that the studio took into account absolutely all feedback and that the developers had planned a discussion around the patch precisely. "We have heard player feedback regarding some of the changes in Diablo 4 1.1.0. We will be holding a Campfire [stream consacré au jeu] this Friday to discuss more »can we read on Twitter.
But that was not enough to calm the anger of the players. A hotfix has also been deployed on Diablo 4 at the end of the day to try to fix a couple of things, but nothing major. For the community, there is only one possible solution, the postponement of season 1 or the cancellation of the current patch. Difficult to imagine such measures on the very day of the launch of the first season. Unfortunately, players will have to make do with time as Blizzard rolls out a new hotfix, and it shouldn't take long given the turn of events.